TEA ROOMS
Texture and flavout !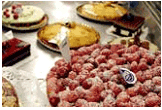 © Paris Tourist Office - Photographe : Catherine Balet
Your preferences tend towards refinement and delicacies?

Take a break from shopping and try something exquisite in one of the quietly charming tea rooms.

These establishments devoted to the pleasures of the taste buds are always tranquil and offer home made pastries and cakes, ideal for a moment of calm during a busy day.

For ice cream lovers, a few select addresses offer an exceptional choice of sorbets and ice creams; enjoying one of these by the banks of the Seine is a moment of pure pleasure!
LE STUBLI

© Paris Tourist Office
Specialities: German
11, rue Poncelet 75017 PARIS
Métro : Ternes
RER : A - Charles de Gaulle Etoile
tél. : 01.42.27.81.86
fax : 01.42.67.61.69
L'AROBASE
45 bd Auguste Blanqui 75013 PARIS
tél : 01 45 65 14 16
fax : 01 45 80 23 02
BEN AND JERRY'S
1 rue Four 75006 PARIS
tél : 01 43 25 10 63
BERTHILLON GLACIER
31 rue St Louis en l'Ile 75004 PARIS
tél : 01 43 54 31 61
FAUCHON
26 place Madeleine 75008 PARIS
tél : 01 70 39 38 00
HAAGEN DAZS
159 rue St Honoré 75001 PARIS
tél : 01 40 20 45 88
LADUREE
Specialities: Traditional cuisine
16 rue Royale 75008 Paris
tél : 01 42 60 21 79
TARTE JULIE
Specialities: Traditional cuisine
Forum des Halles 1 rue Pierre Lescot 75001 PARIS
Tél : 01 42 33 79 32
fax : 01 42 33 24 32
Some restaurants advertise service continu, this means that you can order lunch or dinner there at any time of day or night.
Discover the late night restaurants and cornershops open to everyone!
Le Carnet Gourmand
Find a guide to all of the restaurants that subscribe to the Tourism Office and the Congrès de Paris with the Carnet Gourmand!

© Paris Tourist Office
Published in association with the Société des Bonnes Tables (Good Dining Society), this illustrated, bilingual (French & English) guidebook will prove useful in your search for a good place to eat.

Over 200 restaurants are listed, classed by arrondissement, many of which subscribe to the Tourism Office or the Congrès de Paris.
The guide will give you an indication of the setting, atmosphere and culinary specialities of each restaurant, as well as accepted methods of payment, opening hours and any extra facilities offered, such as access for handicapped persons, terraces, wine cellars, parking, etc.

If you are dining on a budget, you will be interested in the price indication for each restaurant, which divides establishments into three categories: average menu below €30.00, average menu below €45.00, average menu above €45.00.
You can pick up the Carnet Gourmand for free at any branch of the Office de Tourisme or the Congrès de Paris. Equally, it can be found in any of the restaurants that are featured in the guidebook, as well as in many hotels.
For more information : category "Eating out".