THE DEPARTMENT STORES

Discover the world of parisian fashion !
Behind their fairy tale window displays, the big department stores of Paris have become unmissable monuments like the Eiffel Tower or Notre-Dame. Considered Europe's premier shopping centre with its 120 million visitors each year, Boulevard Haussmann is a city within a city.
That's not counting the department stores of Rue de Rivoli, the Rive Gauche or Madeleine. Each of them represents a hot-point of Parisian life where any appetite for shopping will be satiated. Fashion, beauty, decoration, leisure and dinner-table pleasures are just a hint of what awaits you.
Naturally, Paris is filled with numerous different types of store: fashion victim stores (H&M, Zara, Mango etc…), luxury stores (Lacroix, Dior, Chanel etc…), all that remains is for you to explore them in the course of your travels around the city.

If you wish to find out more about shopping in general, take a look at the website of the Paris Tourism Office. There you will discover the different possibilities on offer for going shopping in the most beautiful city in the world.
Hurry out to the stores and you are guaranteed to spend an unforgettable day of shopping ! Below is a short introduction to the mythical department stores of Paris.
Usefull links : 1er arrondissement : Forum des Halles
Métro Châtelet-Les Halles (architects Claude Vasconi et Georges Pencréach, 1979).

Since the 1980's, the meeting point of the three RER lines that stop at Les Halles has been an important point of entry into the city. This vast four level shopping gallery, built in 1979, is the setting for a constant stream of strollers, onlookers, consumers…
The architects wanted to "make sunlight present everywhere through a cascading series of windows." At the same time, the windows are visible by their white aluminium frames. The lowest point, decorated with a statue of Pygmalion by Julio Silva, was originally to open onto the gardens, but a fourth side was added for commercial motives. On top of the forum, there are little pavilions in glass and steel and an assortment of curious little garden elements. (Engineers: Jean Willerval and Jean Prouve).

Other types "of shopping activities" exist like the accompanied shopping visits and of course one cannot speak about shopping without speaking about the sales.

Make the most of shopping, you should also take a walk through the markets (covered, open, organic…) and through the passageways and galleries where you could find a rare pearl in the heart of Paris.
4ème arrondissement : Le Bazar de l'Hôtel de Ville (B.H.V)
52-64 rue de Rivoli 75004 Paris (Open 10.00-19.00 except Sundays, 22.00 Wednesdays)

Formerly the Bazar Napoléon, it became the Bazar de l'Hôtel de Ville in 1870. Architecturally speaking, it may not be much to look at, but its basement is known to all DIY artisans.
9ème arrondissement : Les galeries Lafayette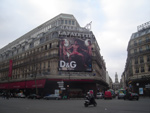 40, boulevard Haussmann 75009 PARIS
Métro : Chaussée d'Antin La Fayette
RER : A - Auber
tél. : 01.42.82.34.56

The most famous and the most spectacular of the big Parisian department stores, this is the only store where you can find assembled around its famous cupola all the big names: Armani, Chanel, John Galliano, Jean Paul Gaultier, Christian Lacroix, Prada, Sonia Rykiel, Thierry Mugler, etc.
Every storey has been completely renovated and is dedicated entirely to women's fashion.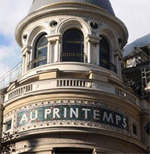 64, boulevard Haussmann 75009 PARIS
Métro : Havre Caumartin
RER : A - Auber
tél. : 01 42 82 50 00
Open : Monday to saturday from 9.35am till 7pm
Thursday till 10pm