OPEN LATE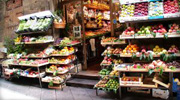 In Paris, outside of ordinary opening hours, certain shops are open very late at night. There you can find all sorts of everyday items and some fresh food (restaurants, shops…).
Should find yourself feeling a little peckish at night, here are some handy addresses of late opening businesses. For a more precise list you should consult the the Paris Tourist Information Office.
CHEZ JEAN-MI
10, rue de l'Ancienne Comédie 75006 PARIS
Métro : Odéon

CHEZ TINA
1, rue Lepic 75018 PARIS
Métro : Blanche

There are other establishments that open late at night, such as museums, monuments, night pharmacies, etc. You can find addresses for these by clicking on the link.