ROLLER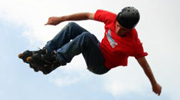 To help you get started, the canal bank pathways are open to pedestrians, cyclists and skaters 09.00 – 17.00 Sundays from March to November, and constitute a pleasant route. On the right bank, from the underground Albert 1er to Quai Henri IV, and on the left bank from Quai Anatole France to Quai Branly.
All year round: the Mouffetard district (5th arrondissement), the Quais de Valmy and the Quais de Jemmapes around the Saint-Martin canal, between Rue Louis-Blanc and Rue de la Grange-aux-Belles (10th), around the Mairie of the 14th arrondissement (from 14.00 to 18.00), the Quai de la Loire and the Quai de la Marne, along Bassin de la Villette and Canal de l'Ourcq (19th).
The association Mobile en ville have mapped all of the footpaths in Paris, marking their height, width, surface, wet points: so that you can prepare your route!

The site also proposes routes and gatherings.
- faire du roller à paris: the website for roller-skaters, here you can find out where to rent your first skates.

- roller à paris
This association organises the famous "Friday Night Fever" every Friday evening (participants meet at 22.00, experienced level)
Meeting place: 40 avenue d'Italie, Paris 13è.
Tel. 01 43 36 89 81
- ROLLERS ET COQUILLAGES (roller pour débutant)
A skating tour of Paris every Sunday at 14.30 for beginners
Place Bastille at the Nomades store
37 Bld Bourdon, Paris 4è, Métro Bastille.
Tel. 06 13 24 88 87
With the French School of Roller-Skating and Roller Station: initiation, teaching, guided visits in Paris.
- MOBILE EN VILLE (mobile en ville)

Roller-skates, rollerblades, skooters, wheelchairs. The programme includes: tours, treasure hunts, tourist visits… all levels.

Meeting place: Place du Palais Royal, 14.30, 24 June, 8 July, 22 July, 26 August, 9 September, 23 September, 14 October, 11 November.

We've described the main ways of getting about in the city; all that remains is for you to choose the transport that most appeals to you. Good visit!