BUS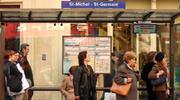 The majority of French cities and towns have a bus network. Tickets can be bought individually, but if you plan to be taking the bus regularly, it's preferable to get a bus card .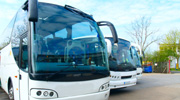 The bus routes are useful for discovering different parts of the city, indeed having a "chauffer driven tour" of Paris!
RATP bus routes:
(for more detailed information, go to the RATP website)
- Line 29, from Saint-Lazare to Porte de Montempoivre

- Line 30, from Gare de l'Est to Trocadéro, following the Fermiers Généraux wall

- Line 32, from Porte de Passy to Gare de l'Est across beautiful 18th century areas of the city 19è siècle

- Line 38, from Gare de l'Est to Porte d'Orléans, climbing up Boulevard Saint-Michel

- Line 47, from Porte d'Italie to Gare du Nord

- Line 52, from Opéra to Porte d'Auteuil, through the west of Paris

- Line 63, from Porte de la Muette to Gare de Lyon passing by the Latin quarter

- Line 69, from Champ-de-Mars to Gambetta crossing Faubourg Saint-Germain

- Line 72, from Porte de Saint-Cloud to Hôtel de ville, along the Seine

- Line 84, from Panthéon to Place du Maréchal Juin, by the openings of the Haussman boulevards.

- Montmartrobus.

- Line 73 : from Musée d'Orsay to La Défense along the Champs-Elysées.
If you wish to travel back in time, you can always take a tour on the famous green and red "Sprague" metro from the 1930's – today classed a historic monument – along the tracks of the line 6 (elevated line).

- RATP : Tour operator rubric (click on "Paris l'Open tour")
Paris Open Tour, to discover Paris by your window.

- RATP : (click on "Tourist services")
Bus découverte 2000: bus visits in the Ile-de-France region and throughout France

- TOUR PARIS (tour de paris)
Visits to the city and tourist sites around France, in English, Spanish and French. Along set routes or organised circuits.
- PARIS TRIP (paris balades)
Paris and the tourist hotspots in a minibus
- Cityrama
Tel. 01 44 55 61 00
4, place des Pyramides, Paris 1er
Métro Pyramides
- PARISBUS
Tel. 01 42 88 92 88
3-5 rue Talma, Paris 16è
- PARIS-VISION
Tel. 01 42 60 31 25
214 rue de Rivoli, Paris 1er
Métro Louvre ou Tuileries
We've described the main ways of getting about in the city; all that remains is for you to choose the transport that most appeals to you. Good visit!