BANKS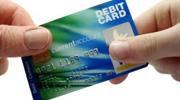 There are a multitude of banks in Paris, both French and foreign. In general, they open 09.00 – 17.00 (sometimes until 18.00) Monday – Friday, certain banks open Tuesday – Saturday. Some banks also close for lunch, 12.30 – 14.00.
CCF CHANGE (Crédit Commercial de France)
4, rue du Cloître Notre Dame 75004 PARIS
tél. : 01.56.81.11.20
fax : 01.56.81.11.22
For further information contact the Paris Tourist Information Office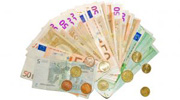 The single European currency (Euro):
The Euro is the official currency of 12 European Union member states (including France).


The first euro notes and coins came into circulation in January 2005, and entirely replaced the French franc on 17 February 2002. Euro (€) = 100 cents.

Changing your money:

Foreign currencies can be exchanged at the airport or in some of the big hotels, but often a higher commission is charged. To take advantage of a lower commission you should exchange your money in one of the banks or at a bureau de change.

Avoid carrying a lot of cash around with you. It is safer to carry traveller's cheques or a visa card.

Emergency numbers in case of loss or theft of credit cards in France:

American express : 01.47.77.70.00 ou 72.00 american express

Diners clubs : 01.49.06.17.50 ou 01.47.62.75.75 ou 08.20.08.20.536 diners club

Eurocards/ Marstercards : 01.45.67.84.84

VISA : 01.42.77.11.90 ou 45.45 ou 08.36.69.08.80 carte bleue

Do you wish to change your money?