BUILDINGS
ARCHE DE LA DEFENSE

Source: www.parisbalades.com
La grande Arche, 1 parvis de la Défense
(
la grande arche de la défense
)
(architecte Otto von Spreckelsen, 1989, tel. 01 49 07 27 57) It's a hollowed out cube that symbolically encloses the view of Paris within a picture frame, At the same time it offers a clear view of the city from 110 metres up (elevators provide access to the roof). The arch is surfaced in white marble, grey granite and reflective windows, and provides 115,000 m² of office space. Its construction was a technical achievement on the part of the architect, who abandoned the project after a part of his design was removed. At the Grande Arche, you will find information centres where you can find documents relating to various subjects:
Sources d'Europe
: (tel. 01 41 25 12 12, open 10.00-18.00 except Saturday and Sunday) Exposition and centre for information on Europe
Centre de documentation en urbanisme
(CDU), North pillar of the Grande Arche (tel : 01 40 81 21 22 or 01 40 81 11 78, open Tuesday - Friday 9.30-17.30 (
équipement de l'urbanisme
)
Also to be seen around the Grande Arche de la défense:
- "Les collines" office tower (architectes Buffi et Lenormand, 1990)
- SFR Cofira tower, avenue de la Division Leclerc (architectes Andrault et Parat, 1990)
LA MADELEINE

© Pariserve.com
Place de la Madeleine (8è)
M° Madeleine
Tel: 01 42 65 52 17
Opening:
07.00-19.00 Monday - Saturday
08.00-13.30 and 15.30 -19.00 Sunday
Across Rue Royale, the church of La
Madeleine
overlooks Place de la Concorde. The Greek temple façade of the church is in perfect harmony with the Palais Bourbon, which faces it from the other side of the Seine. In 1806, Napoleon gave to Vignon the task of transforming the church into a temple of glory.
EGLISE SAINT-SULPICE

© Pariserve.com
Place St-Sulpice (6è)
M° St-Sulpice
Tel: 01 46 33 21 78
Ouvert:08.30-17.15 every day
The church of Saint Sulpice, begun in 1646 by Gamart, was later modified by Chalgrin. Within the church, which dominates the surrounding area with its imposing bulk, magnificent murals by Eugène Delacroix can be found in the Chapelle des Anges.
EGLISE ST-EUSTACHE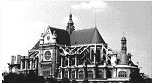 © Pariserve.com
Place du Jour
M° Les Halles
R.E.R Châtelet les Halles
Tel: 01 42 36 31 05
Opening: 09.00-19.00 every day 08.15-12.30, 15.00-19.00 Sunday One of the most beautiful churches in Paris, Saint Eustache dominates the district of Les Halles. The first stone of this huge gothic structure was laid in 1532, construction was not completed until 1637.
LA MOSQUEE DE PARIS

© Pariserve.com
Place du Puits de l'Ermite (5è)
M° Place Monge
Tel: 01 45 35 97 33
The Paris Mosque was built in 1927 in the Hispano-Moorish style, in the form of a patio surrounded by galleries. A place of worship for the Muslim community of Paris, the mosque also houses a library, a teaching centre, a hammam, a restaurant and a café where one can sample delicious pastries accompanied by mint tea. Of course, Paris is replete with
institutions
of note that you may wish to learn about, you may also be interested in other forms of cultural art, such as dia
media
.