Outside Paris
Discover the wonders that lie beyond the city !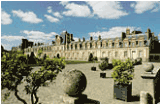 © Paris Tourist Office
Want to get off the beaten track and out of Paris? Make the most of your stay by visiting the surrounding regions. There are many monuments, museums, attraction parks, the largest aquarium in Europe (Le Val d'Europe)… and all this right in the centre of the Ile de France region.
Follow the guide to île-de-France et ses curiosités. Voici une sélection de lieux pour partir à la découverte des trésors des environs de Paris.
CHATEAU D'AUVERS SUR OISE

© Paris Tourist Office
Rue de Léry 95430 AUVERS SUR OISE
SNCF : Auvers Sur Oise
tél. : 01.34.48.48.40
fax : 01.34.48.48.51
In the heart of Auvers-sur-Oise, the path through the grounds of the Château d'Auvers provides a "journey to the time of the impressionists" where you will walk paths trodden by the master painters who marked the history of the village: Daubigny, Pissarro, Cézanne, Monet, Van Gogh.

CHATEAU DE VAUX LE VICOMTE - HORSE AND CARRIAGE MUSEUM

© Paris Tourist Office
Domaine de Vaux Le Vicomte 77950 MAINCY
RER : Melun RER D + taxi
SNCF : Melun + Taxi Built in the 17th century by Nicolas Fouquet, Vaux le Vicomte inspired the Sun-King to the creation of the Chateau de Versailles, although in comparison Vaux le Vicomte is a modest hunting pavilion.
CHATEAU DE VERSAILLES

© Paris Tourist Office
En train :
RER ligne C
direction Versailles-rive-gauche-château
from gare Montparnasse
train
SNCF
serving Versailles-Chantiers
from gare Saint-Lazare
train SNCF direction: Versailles-rive-droite
En autobus :
From Pont de Sèvres RATP line 171
direction: Versailles-place d'Armes

Car :
Autoroute A13 (direction: Rouen)
exit Versailles-Château
Paying car-park at la place d'Armes

CHATEAU DE VINCENNES, avenue de Paris

© Paris Tourist Office
(tél. 01 43 28 15 48, open every day except public holidays 10.15 - 11.45 and 13.15 - 17.00, 16.15 in winter)
• PARC ZOOLOGIQUE DE PARIS
53, avenue de Saint-Maurice, 75012 Paris
Tel: 01 44 75 20 10
M° Porte Dorée, St-Mandé Tourelle
PARC ASTERIX
BP 8, 60128 Plailly
Tel: 02 36 68 30 10
R.E.R.: B3 Roissy Charles de Gaulle 1 + bus
DISNEYLAND PARIS
BP 100, 77777 Marne-la-Vallée cedex 4
Tel: 01 64 74 30 00
R.E.R. A Chessy Marne-la-Vallée ou Autoroute A4 exit n°14 "Parc Disneyland®
FRANCE MINIATURE
25, route du Mesnil - 78990 Elancourt
Tel: 01 30 51 51 51
R.E.R.: C7 St-Quentin-en -Yvelines + Bus n°420
MER DE SABLE
60950 Ermenonville
Tel: 16 44 54 00 96
R.E.R. B3 Roissy-Aéroport Charles-de-Gaulle + Courrier Ile de France shuttle
SAINT-VRAIN
91770 St-Vrain
Tel: 01 64 56 10 80
Autoroute du Sud exit Viry-Chatillon, direction Brétigny.
CHATEAU DE THOIRY:
78770 Thoiry-en-Yvelines
Tel: 01 34 87 52 25
SNCF: Gare Montparnasse to "Monfort-l'Aumaury" or Autoroute A13 direction Dreux sortie Bois d'Arcy, then D11 direction Dreux Pontchartrain
For more detailed information consult the Paris Tourist Information Office.
Make the most of your stay by visiting the museums and monuments. Not to mention the unusual spots, the boat trips, the bridges, the Parisian squares, the zoos and farms of Paris, the operas, or the parks and gardens where you can stroll around at your ease.
(For information : category "Visits in Paris and √ģle de france".