Clubs / Discotheques
Keep your eyes wide open!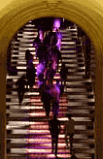 © Paris Tourist Office -
Photographe : David Lefranc
At the time of night when some of us are tucked up in bed, others are keeping Paris very much animated. Throughout the four corners of the capital, there's plenty of choice for the nocturnal among you!

From prestigious jazz clubs to antiquated music halls, latino cafés, karaoke bars and musical bistros, for musical variety Paris has an embarrassment of riches.
Like to dance?

Choose your style among hip-hop, contemporary and classical ballet, salsa, the famous French cancan of the cabarets, or spend a feverish night clubbing on one of the hundreds of dance floors throughout the city. Maybe you're more interested in rock, afro, techno, zouk, rap, or samba? Every kind of musical taste is represented in clubs, bars and halls around the capital. And if you're still not sleepy when the sun comes up, you can always head for an "afters" and keep on dancing.

Below are the names of some well known night clubs and jazz clubs in the city. You will find a more comprehensive list of places to bring your friends or go alone on the website of the Paris Tourism Office.
Night Clubs
CLUB MED WORLD

© Paris Tourist Office
39, Cour St-Emilion 75012 PARIS
Métro : Cour Saint-Emilion
Bus : 24,62
tél. : 0 810 810 410 (N° Azur)
fax : 01.44.68.70.90

Dance the tango, the paso, the cha-cha-cha, the bolero and disco in this renowned night spot!
DUPLEX

© Paris Tourist Office
2 bis, avenue Foch 75016 PARIS
Métro : Charles de Gaulle Etoile
tél. : 01.45.00.45.00
20 – 30 year olds only. Restaurant open every day except Sundays, from 21.00. The restaurant becomes a night club (groove music) Fridays and Saturdays.
L' ETOILE

© Paris Tourist Office
12, rue de Presbourg 75016 PARIS
Métro : Charles de Gaulle Etoile
tél. : 01.45.00.78.70

Club open Tuesday to Saturday from 23.00. Features an unbeatable view of the Arc de Triomphe. Very conventional but elegant décor, bistrot or late-bar kind of atmosphere.
FOLIES PIGALLE

© Paris Tourist Office
32 rue Richer 75009 Paris
Métro : Cadet
Tél : 0892 681 650
fax : .01 44 79 98 90

Predominantly a house music and gay club scene. Sundays are showy in this club, with spotlight dancers, salsa, house.
Jazz Clubs
ARBUCI JAZZ CLUB
25 rue Buci 75006 PARIS
tél : 01 44 32 16 00
fax : 01 44 32 16 09
The Frank ASH, Richard RAUX and Andre CLAUSS trio. Wednesday and Thursdays concerts from 22.00. Fridays and Saturdays from 22.30.
BILBOQUET
13 rue St Benoît 75006 PARIS
Tél : 01 45 48 81 84
This used to be the "Club Saint-Germain". Features very good orchestras, such as the Claude TISSENDIER swing orchestra, or the George ARVANTIAS trio.
CAVEAU DE LA HUCHETTE
5 rue Huchette 75005 PARIS
tél : 01 43 26 65 05
fax : 01 40 51 71 70

This club has seen everything since it was opened in 1947. A historical rendezvous for lovers of the New Orleans style. A place to go to listen to some jazz, have a drink and dance.

NEW MORNING
7 rue Petites Ecuries 75010
Tél : 01 45 23 51 41
fax : 01 42 46 24 38
Open Wednesdays, Thursdays, Fridays and Saturdays. Concerts from 22.30 with Archie SHEPP on sax and Mike STERN on guitar.
DUC DES LOMBARDS
21 bd Sébastopol 75001 PARIS
Tél : 01 42 33 22 88
An rendezvous not to be missed for lovers of jazz. Features the Franck Avitabile trio, Aldo ROMANO or Misja FITZGERALD-MICHEL.
(For more information category "Entertainment").
Other entertainment destinations around the city include sports, festivities and festivals, cinema, and of course the shows (cabarets, classical, theatres and concerts)!