MEDIAS
Below are some other buildings around the city that deserve attention. Also, don't forget to take a look at museums, monuments, districts and to visit.
• L'ACADEMIE FRANCAISE

Source:
www.parisbalades.com
The Académie française was founded in 1635 by Cardinal Richelieu. Its members were literary figures of the time and their mission was to purify the French language, to apply rules and standardise the language in order that it should be comprehensible to everyone. They began this task by composing a dictionary.

Cardinal Richelieu proclaimed himself the protector of the academy. Upon his death, this protectorship was taken up by Chancellor Séguier, then by Louis XIV, and then by each of the successive kings, emperors and heads of state of France.
• LA COMEDIE FRANCAISE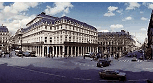 Source:
www.parisbalades.com
By a decree of the 21st of October 1680, Louis XIV created the Comédie Française. This was a guild of actors whose objective was to compete with the "comédie italienne", which had been very much in vogue in France since the middle of the 16th century. It gave rise to the illustrious Théâtre de Molière, the Théâtre du Marais and the Théâtre de l'hôtel de Bourgogne.
• LA MAISON DE LA RADIO

Source: www.parisbalades.com
116 avenue du Président Kennedy
(La maison de la radio)
(RER Maison de Radio-France) (tél. 01 45 24 70 00) (architect Henry Bernard, 1963)
The "Maison Ronde" (round house) was built in 1963, 10 years after the establishment of centralised broadcasting in France. It was conceived by General de Gaulle as "the symbol of the organisation and cohesion of radio broadcasting". It has since then been adopted as an emblem by the general public, which makes it something of a rarity in modern architecture.
• SIEGE DE FRANCE TELEVISION, QUAI ANDRE-CITROËN


Source: www.parisbalades.com
(tel. de France 2 : 01 44 21 54 24, France 3 : 01 42 30 56 56) (architect Jean-Paul Viguier, 1997)
The new headquarters of French public television is split into two parts, making up the mutual headquarters of the channels France 2 et France 3.
Of course, Paris is replete with institutions of note you may wish to learn about, as well as other styles of architecture which contribute to the city's renown.